University Information
Saxion University of Applied Sciences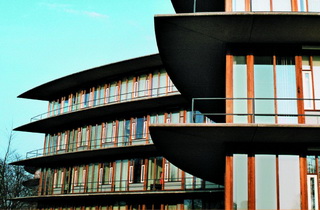 Saxion University of Applied Sciences is one of the largest institutions of higher education in the Netherlands, with over 22,000 students (and still growing!). Saxion University has a rich history - its roots can be traced back to the 1875. A merger of two educational institutions, the Hogeschool Enschede and Hogeschool Ijselland, in 1998 paved the way for Saxion University in its present form. This merger enabled Saxion to build further on its strong position in Dutch higher education and since then Saxion University has come to be recognised as an important centre of expertise at regional, national and international level.
Saxion offers a broad range of courses at various levels, including many international programmes. The quality of education at Saxion is monitored by the Dutch Ministry of Education, Culture and Science, as well as being accredited by several international bodies, assuring you that the programmes on offer are of a high standard.
We are very proud of our diverse student body. Our international student population tops 2,500 students with a total of 55 different nationalities. Many of Saxion's full-time educational courses are already conducted in English, with more being added each year. Our 'international classrooms' are made up of a mix of students from all over the world. In this way we provide you with a truly multi-cultural experience in which you can compare experiences with and learn from fellow students of different backgrounds and nationalities.
Support to students: Education at Saxion is very student-focused and we offer you support not only from an academic point of view but also in terms of your personal development. While studying at Saxion University you will have the opportunity to gain both the knowledge and the skills you require to continue on your chosen career path.
Coming to the Netherlands from abroad can of course be a big step for many international students. If you are arriving from outside of the Netherlands, we aim to make the transition for you as smooth as possible, and we have therefore established a network of host families (Friends of Saxion International Students) who are on hand to help you settle into life in the Netherlands. We also have a 'Buddy' programme, whereby current students can help guide you through your initial period of studying at Saxion.
Facilities:
Saxion University offers a wide range of facilities including Computer Labs, an extensive library, restaurants and Wi-Fi.
Tuition Fees:
Annual tuition fees are € 1,835 for 2013/2014.
Entry Requirements:
UK students require A levels and/or BTECs and GCSEs to a similar standard to the Dutch secondary school certificate. It is difficult to outline a direct equivalent in terms of A level grades but if you have three A levels at C or above, you should usually be admitted to Saxion's hospitality and tourism degrees. Potential students will need to demonstrate an interest and an aptitude for studies in hospitality and tourism. Students who have taken economics, business and/or languages may find they are better prepared for this course than other students.
In some cases, students with excellent and relevant A levels may be able to proceed directly to the second year of the four-year programme. This will be subject to passing certain tests upon entry to the university. For more details on whether this could apply to you, we advise you to contact Saxion admissions department directly as this is not a decision that we are involved in.
Link to university website:
Courses at Saxion University of Applied Sciences