University Information
John Cabot University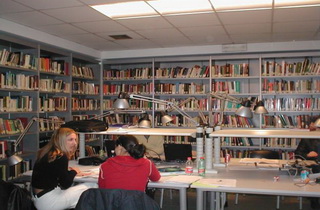 John Cabot University (JCU) is located in the neighborhood of Trastevere--the Transtiber of the ancient Romans. The campus is near the compound of the Italian National Academy of Sciences. The University is composed of two campuses: The Guarini Campus on Via della Lungara, and the Tiber Campus on Lungotevere Raffaello Sanzio. Inaugurated in 2008, the Tiber Campus overlooks the Tiber River on the outside and the shops of Trastevere on the inside.
John Cabot University is an American liberal arts university in Rome, Italy. JCU offers various Bachelor Programms e.g. in Art History, International Business and English Literature. The University is very international with over 100 multicultural and multilingual faculty members teach at JCU. Moreover JCU class sizes are very small with 15 students per class to offer a more personal class room experience. JCU students are from all over the world e.g. Italy, United Kingdom, United States and from 50 other countries.
Students are offered various services and activities including Student newspaper, Model United Nation, Soccer and Environmental Club.
John Cabot University is accredited by the Commission on Higher Education of the Middle States Association of Colleges and Schools. The University is incorporated as a not-for-profit organization in the State of Delaware and is licensed to award its degrees by the Delaware Department of Education. It is authorized by the Italian Ministry of Education to operate as a four-year American liberal arts college in Italy.
Facilities: On campus you have the possibilities to use the various computer labs. Wi-Fi is available, too. Moreover the Universities Library, Frohring, which is one of the largest English Libraries in Italy, has thousands of online resources and databases.
Tuition Fees: Annual tuition fees: € 13900
Scholarships:
One of the various Scholarships offered at John Cabot University is the Presidential Scholarship. Based on academic results students can get up to €7000 per annum. For more information please visit: http://www.johncabot.edu/Admissions/Financial_Aid_Scholarships/Scholarships/Scholarships_Degree_Seeking_Student.aspx
Entry Requirements:
Successful applicants must have maintained a scholastic record demonstrating a serious commitment to their studies and the ability to succeed at college-level work.

Each applicant is considered for his/her academic and personal achievement with no single factor guaranteeing acceptance to the University. Evaluation is based upon the breadth of the student's program of study, academic record, the results of national study exams and the recommendations of professors, counsellors and teachers.

The applicant's personal statement weighs heavily. The University does not prescribe a fixed secondary school course of study, but considers all aspects of a student's educational record. The minimum required is at least a 12-year course of study from beginning to diploma award. The Admissions Committee welcomes any other supporting material that reflects the applicant's special qualities and achievements.
Link to university website: http://www.johncabot.edu/
Courses at John Cabot University