You are here :
Megan Doxford
Megan Doxford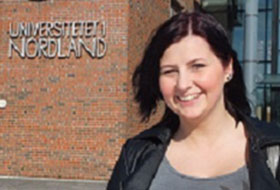 University: University of Nordland
Course: BSc Biology
Which year you are in: First year
Home Town in UK: Durham
1. Why did you choose to study abroad?
Originally it was not my intention to study abroad, however, after visiting Norway I fell in love with the country and decided that I just had to move here. So far I think it has been the best decision of my life, even if I wasn't planning on moving here permanently, I have had the most amazing experience at university so far.
2. How would you rate the assistance of the university before you arrived (the application process, finding accommodation, sorting out financial matters)?
It was rather difficult to find any information about studying at a bachelors level in Norway, but once I discovered the Universitetet I Nordland everything became a lot easier. The international office has been exceptional. It's not easy leaving home for the first time, let alone moving 1000miles to a foreign country, but they have made the transition from the UK to Norway so much easier. From day one they have been quick to respond to any query, no matter how big or small, and this certainly helped to put my mind at rest. I cannot praise them enough for their help and patience with me!
3. How would you rate the assistance of the university when you arrived (orientation etc)?
From the moment you arrive, the university helps to take care of you and settle you in. When I arrived, a welcoming team greeted me; they took me to my accommodation and gave me a goody bag filled with all of life's necessities! We then had an orientation day specifically for international students, filled with a lot of useful information about the university and surrounding area, as well as giving us the opportunity to meet all the other international students. This proved to be very interesting and has led to me developing friendships with people across the globe.
4. Did you feel prepared when you arrived and/or what surprised you?
Thanks to how helpful the staff at the international office were before my arrival, I felt fully prepared. I was however, very surprised at just how beautiful the area surrounding the university is. I've never been somewhere that has so many outdoor activities to offer right on it's doorstep.
5. How would you rate the learning environment (teaching style, studying with other international students, non-native English speaking lecturers)?
My course is taught in English, with the option of studying some modules in Norwegian. Most are also taught in the standard lecture format, however the chemistry module is taught via videoconference. We've had a few difficulties with this; with it being the first year that the University has tried this, but whenever a problem has arisen it has been solved quickly, with the University looking to improve this style of teaching.
6. Would you recommend studying abroad to a 17-18 year old Brit who might never have thought about it before?
I would recommend it 110%! It has been a life changing experience so far, and it keeps getting better! Life as an international student is excellent. Whether you get the chance to do it for one semester, of for three years like me, go for it! If anything, you get to make friends from all over the world, which you can go and visit for cheap holidays! Within the first month of arriving here, I'd been on fishing trips, hiking trips, wizzing around in a little rib boat on the Saltstraumen, swimming in some of the most beautiful lakes which are a 15 minute walk from the University, and even met the Norwegian Prime Minister. It's been quite something!
7. Is there anything you wish someone had told you at the time you applied?
Be prepared for how expensive food and drink is. Even though I had stayed in Norway before moving over here, it still comes as quite a shock; you're lucky to find a pint for a fiver! I will say however, if you are planning on being a student over here, there is a bar near the university called 'Sku Bare', it sells the cheapest beer in Bodø and has an amazing atmosphere - definitely worth a visit! As for food, the university's canteen has very good meals at a reasonable price.
8. Would you recommend your course, university, city to British students?
I would highly recommend studying at the Universitetet i Nordland. The course is brilliant and comes with some perks, such as the chance to study in Svalbard in your 3rd year. The university itself is a wonderful environment to be studying in, big enough to have everything you need, yet small enough to find everything easily. The library is also very good, worth studying here just to use it! As for Bodø, it has all the amenities you could need, and has stunning surroundings. It's perfect for anyone who enjoys the outdoor lifestyle.

For more information about studying Biology at the University of Nordland