You are here :
Haider Anwar
Haider Anwar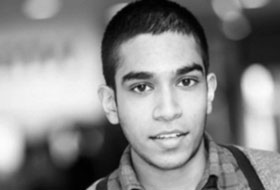 University:Rotterdam School of Management, Erasmus University (RSM)
Course: International Business Administration (IBA)
Which year you are in:1st Year
Home Town in UK:London
1. Why did you choose to study abroad?
Well, after being very passionate about studying business I saw that RSM offered a fantastic course in English that focused on International Business. I was attracted to the potential diversity that I was about to experience on my course. The second reason was the high reputation of RSM. However on a more personal note it was a prospective venture to seek independence and maturity.
2. How would you rate the assistance of the university before you arrived (the application process, finding accommodation, sorting out financial matters)?
The university is very friendly, and willing. I decided to take up RSM's offer at a very late stage (late August) due to A Level results being released quite late. Upon finalising everything with the university, I did not really have any problems. The joys of email really lubricated my start at RSM. When I arrived in the Netherlands, students of IBA were already a week into lectures, but after a few exchanged emails prior to my arrival I was able to get fantastic accommodation. It was slightly pricey but reflecting back on the decision, I feel safe and content with my accommodation. Overall I was able to settle fully after two weeks, this included getting my BSN number, setting up a bank account and finally getting a bike!
3. How would you rate the assistance of the university when you arrived (orientation etc)?
RSM have fantastic, willing people! Fortunately there is no language barrier so communication was really a breeze. All the required help was carried out efficiently and effectively. In hindsight, I was slightly anxious about a cultural clash, but it was surprising to be smothered with so much help.
4. Did you feel prepared when you arrived and/or what surprised you?
I was not prepared at all! After discussing RSM as my future, I had left for Netherlands the following day. Everything happened in a space of 4 days! However, the change and the adaptations were very little. I was really surprised at how diverse my course is! Rotterdam is practically a miniature London. The city centre was very lively with plenty of shops; which helped as I needed many things to really settle in. Nevertheless Rotterdam is very cosmopolitan!
5. How would you rate the learning environment (teaching style, studying with other international students, non-native English speaking lecturers)?
On a scale of 1-10 I would say 15! It's amazing to have people representing nearly every country in the world in one auditorium. My large friendship group consists of at least 13 nationalities. Ranging from Dutch Natives, Germans, Brazilians, Tanzanians, Greeks and Chinese! The cultural differences are interesting; meeting fellow course members who are full of ideas, stories, and experiences. I was amazed at the standard of English of those on my course; some are far better than me.
The IBA course is very driven and demanding, but it is really what one would expect from a top business school. The course here is designed to stretch one's ability and that is ultimately what keeps me busy.
6. Would you recommend studying abroad to a 17-18 year old Brit who might never have thought about it before?
Definitely, if you want to experience a course and campus life away from the UK then this is the place to be. You meet so many people, and are continuously networking! You will not meet as many international students studying at home (UK). You have study associations such as STAR (One of the biggest student study associations in Europe with 7000 members) promoting events, and parties. The parties are lively and every week there is something going on. On the academic side, you also will be exposed to influential and inspiring people who occasionally give seminars. The best part is you get to meet fresh and diverse people; your Facebook and Linkedin will grow substantially on an international scale. It is an opportunity that I am really grateful of having. I honestly thank my parents for sending me here!
Don't worry about the travelling too, it's approximately 300 miles away from London and a return flight ticket actually start from £20 (same price as train ticket in the UK). Last but not least you are only an hour away from home.
7. Is there anything you wish someone had told you at the time you applied?
That English is spoken a bit too much here; I've been here for a month and I haven't learnt much Dutch yet! So indulge yourself into a Dutch Language Course which I have just done. In all honesty, I really didn't know what I was going diving into when arriving at RSM. I thought it would be similar to British universities, but it isn't. That's what I love about RSM.
8. Would you recommend your course, university, city to British students?
From speaking to many senior people in the financial sector, they are very keen. RSM stands out and has top rankings! Its different coming from a non-UK university and you will definitely shine. In addition, the fees are a third of a UK university course. So for the price of a UK tuition fee, you get better education, a chance to meet amazing people and to network, and also an opportunity to communicate with outside speakers (CEO's of IBM, IKEA etc) and have fun away from home. The professors are great, and the lectures are not tedious. The best part by far is how demanding the course is. Three trimesters that are slightly intense; it really does make you feel that your intelligence is being valued.
For more information on Haider's course, International Business Administration at Rotterdam School of Management (RSM), Erasmus University.