Course Information
Fashion & Management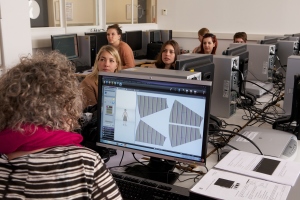 In Fashion & Management you learn about the clothing and fashion industry in detail, and learn how to put your new management qualities and insights to best use in buying, producing and selling clothes. You will also be expected to have answers to the sustainability questions that play a role in this. Fashion & Management graduates work in international production companies, purchasing groups, chain stores, clothes brands and consultancy bureaus, for instance as buyer/product manager, retail concept manager or production manager
Course contents
After the first semester, which is followed by all foundation students together, the second semester is directed towards Fashion & Management. You draw up a clothing analysis, formulate conceptual starting points, and make an article of clothing together with its style sheet and production file. The programme includes preparations for the many functions expected of a fashion manager.
In the third semester, in the second year, you research the world of jeans in all its facets. As a product manager you choose a concept and develop it into a new jeans design, and you prepare a business plan for a retail environment appropriate to this new concept. The fourth semester has an international, economic and strategic focus. You will look at global trends and how these translate into commercial business prospects. Alongside this analysis you will learn how to make strategic choices and how to prepare plans for their implementation in terms of purchasing, production, logistics, marketing and sales.
The third and fourth years are all about the further development of your own talents and aptitudes. You choose a specialization, a minor and a work internship. Your choices will depend on the professional perspectives you have in mind: these will include becoming a buyer/product manager, a retail concept manager or a production manager. You are also free to determine the order in which you take the different course components. The last semester of the programme is devoted to your graduation project. For Fashion & Management, this means either a company assignment or a research subject of your own choosing that is relevant to the fashion world.
For more information, please visit the Fashion & Management page on the AMFI website.
Check out the testimonial of a British student, Dillan Cintract, currently studying Fashion & Management at AMFI.
Similar courses