Kosice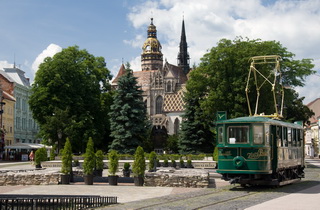 Kosice is located in eastern Slovakia on the river Hornad, near the border with Hungary. With a population of nearly 242,000, Kosice is the second largest city in Slovakia after Bratislava and is home to approximately 25,000 students.
The city has a well preserved historical centre, which is the largest among Slovak towns. There are many heritage protected buildings in Gothic, Renaissance, Baroque, and Secession styles with Slovakia's largest church - St. Elisabeth Cathedral. The long main street, rimmed with aristocratic palaces, Catholic churches, and townsfolk's houses, is a thriving pedestrian zone with many boutiques, cafés, and restaurants. The city has been chosen as one of the European Capitals of Culture in 2013.
There are numerous movie theatres, opera houses, museums, and sport facilities for swimming, water skiing, tennis, Horse riding, hiking in the Tatras, mountain biking, etc.
Kosice will host the World Championships in Ice Hockey in 2012 and its football team occasionally qualifies for the Champions League.
Kosice is well connected to the rest of the country by rail and air links and is easy to reach from the United Kingdom, via Prague, Vienna or Budapest. It is also ideally located for exploring the eastern part of Slovakia
Universities in Kosice